Some people have just too much free time on their hands, free time to post 'sexi' photos on social media and criticize spelling, grammar and well, anything to fill the void.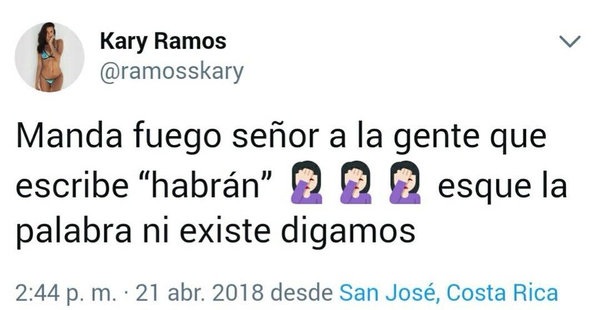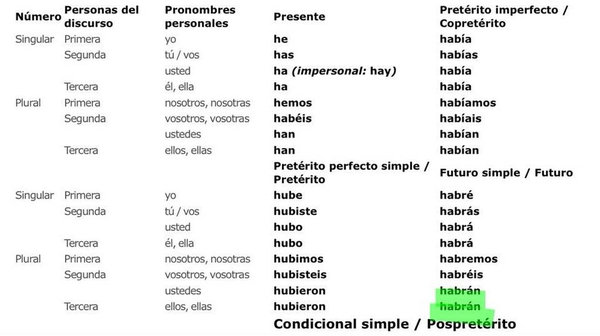 The latest is the screw up by former Miss Costa Rica Karina Ramos, who posted on Twitter that the word 'habrán' does not exist. See what I mean, come on now.
But that's not all. In her Tweet she misspelled "es que", writing it as one word "esque". Again, who cares?
Of course, the curvy, sexy ex-miss tried to delete the Tweet, but by then it had been copied and re-Tweeted be even more who also have lots of time on their hands.
Una persona inteligente con mala actitud no triunfa. Alguien inteligente, sin visión, probablemente tampoco. Una persona inteligente sin disciplina no avanza. Alguien inteligente, sin esfuerzo, no llega ni a la esquina. No es "inteligencia" lo único que se necesita😊

— Kary Ramos (@ramosskary) April 23, 2018
"Cada quien da lo que tiene en su corazón"

No importará jamás cuantas situaciones incómodas o difíciles yo pase, jamás seré una víctima. Porque soy líder y como líder, estoy aquí para empoderar a otros! ♥️#tb al 2014 pic.twitter.com/jcT5VtfrEU

— Kary Ramos (@ramosskary) April 25, 2018
A tirade of Tweets ensued.
But, we can take comfort that all that Karina has to do is post on her Instagram a new sexy photo and all will be forgotten and forgiven.
Una mae se ofendió conmigo porque me reí de Kary Ramos. No me reí de la mae por ser mujer, me reí por la tontería del "habrán". ¿No nos podemos burlar de nada porque todos se ofenden? Come on, people, riámonos un toque de la realidad.

— Carlos Loría El Res Taurado (@insacris) April 25, 2018
Karina Ramos borró el tuit. Mañana pone una foto en vestido de baño y todo sigue igual!

— El Original (@eloriginal0007) April 22, 2018
🇪🇸 habrán
🇦🇷 habrán
🇨🇴 habrán
🇨🇷 esque ni existe digamos

— andrés (@abrenesu_) April 22, 2018
Llevo como 15 mins leyendo tweets relacionados a Karina Ramos y su pifia con la palabra "habrán" 😂😂
Dude, la gente tiene demasiado odio 😂😂
Es lo que pasa cuando se intenta jugar de salsa (?)

— Ernesto Muñoz B. (@AmbMunoz) April 22, 2018
Karina Ramos cada día me cae peor.

— La macha (@luisamr_5) April 22, 2018
Source: Costa Rica Confidential
---
Stay up to date with the latest stories by signing up to our newsletter, or following us on Facebook.
---